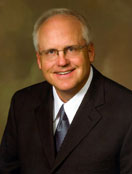 BY JOHN B. LUND, PRESIDENT AND CHIEF EXECUTIVE OFFICER
A new year is typically a chance to reflect on past accomplishments and contemplate new goals and objectives. At the time of this writing, all the numbers for 2012 have not come in or been reconciled; however, I can report that America First experienced a good year, thanks to our wonderful members and our outstanding team of volunteers and staff. More specifics will be reported in the March newsletter and at the credit union's annual meeting in April.
I recently heard a heartwarming story about a young boy, a pig, and a very wise teller. This true tale, and many more untold examples of service and commitment, make me grateful for our achievements and give me a renewed sense of optimism for the future of our credit union.
This youngster and his mother entered our Providence Macey's Branch in Cache Valley, Utah. The boy had a check to cash, which represented the result of a lot of his hard work. He made an investment in a young pig and labored to feed, protect, care for, and ultimately sell his fully grown animal. Undoubtedly, this took a significant commitment of time and energy.
The boy presented his hard-earned check to the teller and said he wanted to cash it. His loving and wise mother indicated it would be better to deposit it and save the money for his future. The youth repeated that he wanted to cash it.
Seeing a possible teaching opportunity developing, a wise teller named Kate said to the boy, "Let me see your check." She counted out the amount of his check in a variety of currency denominations and spread them out on the teller counter so the boy could see the results of his efforts. With words of encouragement and praise, she then asked the boy if he would like to deposit the money for safe-keeping, and that it would be available to him in the future. The youth, having been satisfied by seeing the cash, was happy to deposit it.
This teller gained the friendship and admiration of a young boy -- and the respect of his loving parents. The boy's father came in a few days later to express appreciation for how the situation had been handled.
This is a simple and yet powerful example of listening to our members and trying to provide our best possible service. This is the commitment we make at America First Credit Union to all of our members: whether it is a small boy with his first paycheck; a teenager purchasing her first car or opening a Checking Account or Visa® Credit Card; a couple financing a home; or an older member seeking advice and assistance with a trust or estate plan, it is our goal to provide relevant, personal, and outstanding service to each member throughout his or her life. We greatly appreciate the trust you place in America First. As a new year begins, we will continue to endeavor to deserve your trust and business. Thank you for your membership. We look forward to this lifetime relationship.