Business Visa Credit Card
Put the power of Visa and the financial expertise of America First Credit Union to work for your business. We offer two credit cards that provide the financial flexibility you need, at rates and terms that make smart money sense.
Visa Platinum
Visa Platinum from America First is designed to fit your needs. Whether you are interested in a one of the lowest rates, earning rewards, or getting cash back for your purchases, America First has the card that will help you achieve your financial goals. Choose from the following :
Visa Rewards
Earn one point for every dollar you spend
Points can be redeemed for travel, merchandise, gift cards, event tickets and more - millions of options available
Visit our online store to see the endless possibilities
No annual fee
Flexible terms
Low rates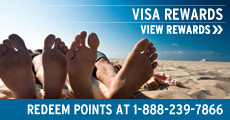 Visa Rebate
Earn up to 1% cash back on purchases
Rebate is paid annually and automatically deposited into your savings account
No annual fee
Flexible terms
Low rates
Other Benefits
Personalized Design: Add your own picture to your card with Picture Perfect.
Travel emergency assistance - Get these free services by calling 1-800-VISA-911:

Pre-trip assistance, including a list of required immunizations for the destination.
Medical emergency assistance will direct you to a hospital with a doctor who speaks English.
Translation assistance.
Lost luggage assistance.
ATM locations where funds can be advanced.
Roadside service (Visa will provide help at your location; however, you will have to pay for all services).

Competitive Rates: Our low rates are some of the best you'll find.
No Annual Fees
Highest Credit Limit: $6,000 or more.
Extended Warranty Service: Doubles the repair period on anything you buy with the Visa Platinum card.
Auto Rental Insurance: Free coverage for any damage to a rental car when you pay with the Visa Platinum card.
Travel Emergency Assistance: Get free services when you use the Visa Platinum card, including medical or legal referrals and emergency ticket replacement.
Travel Accident Insurance: Free Accidental Death and Dismemberment coverage when you use the Visa Platinum card to book your travel.
Not sure which card to choose? Try our credit card calculators.
As a Current AFCU Cardholder, You May:
Sign up for Visa IntelliLink. It's free, and it gives you a detailed spending analysis of all your Visa purchases (applicable to Business Visa Platinum only).
Activate a new card: Call 1-800-562-1337 (24 hours a day, seven days a week) from your home phone or 1-843-871-5095 from International locations.
Ensure the use of your card before traveling: Contact the Visa Department at 1-800-999-3961.
Dispute a Visa purchase: Fax signed dispute forms to (801) 827-8089 for processing.
Report a lost or stolen card to 1-800-999-3961.
Apply for an increase in your limit.