America First Credit Union Mobile Banking
Managing your finances just got a lot easier with the new and improved America First Mobile Banking app.
Available for both iPhone and Android, this mobile app is customizable, so you can modify it to fit your financial needs.
Whether you're looking for a better way to track your budget, pay your bills or keep track of multiple accounts from various financial institutions and investments, America First Credit Union lets you do all this and more from the comfort of your own phone.
Check out some of the ways this app allows you to personalize your banking experience:
Dashboard
Our updated dashboard offers a sleek new interface, offering all the mobile banking options you need, right at your fingertips. Plus, you can customize the dashboard to feature the information and services you use the most.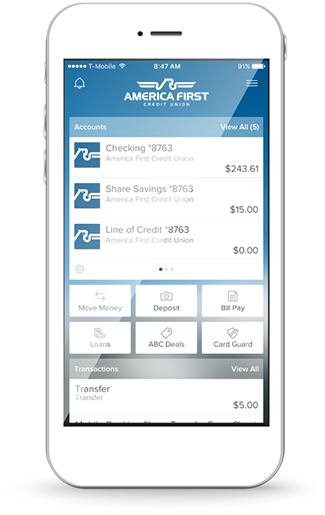 Mobile Deposits
Depositing money has never been more simple. Just take a picture of a check while using the AFCU mobile banking app and the money is deposited into your account.
Budgets & Spending
Stay on top of your money with Budgets and Spending. Transactions are automatically categorized to create detailed spending reports. You can also use the auto-generation tool to effortlessly create and maintain a budget.
Account Aggregation
Add your accounts from other financial institutions to see a complete view of your finances all in one place.
ABC Deals
Get cash back for purchases you're already making with ABC Deals. Activate merchant offers and use your America First Visa® debit and credit cards, and money will be automatically deposited into your account.
Loans
Use the America First app to apply for an auto loan, increase the limit on your Visa Credit Card, open a new Line of Credit and more. Personal and business loans can be approved in minutes.