Secured Visa Credit Card
A Secured Visa Credit Card from America First gives you a low rate, the purchasing ability you need, and the chance to rebuild your credit. Plus, there's no annual fee. This unique option ties your spending limit to funds in a savings account*. Everyone needs the power of Visa and our secured card provides just that.
Beneficial features include:

No annual fee
Low rates
Credit limits from $200 to $15,000
And all that comes with a premier Visa card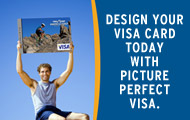 Additional Information
---
Personalized Design: use Picture Perfect to create your own card with a photo of your choice.
Travel emergency assistance - Get these free services by calling 1-800-VISA-911:

Pre-trip assistance, including a list of required immunizations for the destination.
Medical emergency assistance will direct you to a hospital with a doctor who speaks English.
Translation assistance.
Lost luggage assistance.
ATM locations where funds can be advanced.
Roadside service (Visa will provide help at your location; however, you will have to pay for all services).

Auto Rental Insurance: Free coverage for any damage to a rental car when you pay with the Visa Secured Card.
Travel Accident Insurance: Free Accidental Death & Dismemberment coverage when you use the Secured Visa Card to book your travel.
Activate a new card: Call 800-562-1337 (24 hours, 7 days) from your home phone or 843-871-5095 from International locations
Report a lost or stolen card: Contact the Visa department at 800-999-3961.
Increase your limit by completing our online loan application.
Ensure the use of your card before traveling by contacting the Visa Department at 1-800-999-3961.
Dispute a Visa purchase by faxing a signed form to 1-801-827-8089 for processing.
Product
Details
APR*
* The annual percentage rates listed are our best rates. Your rate may be higher depending on credit history and underwriting criteria. Visa Platinum requires a $6,000 minimum limit. The Platinum Low Rate option is not available on Business Accounts. For Visa Check Card rates please see Line of Credit. Rates and terms are accurate as of Saturday, July 1, 2017 and are subject to change.
platinum low rate
Low Rate Platinum Card
7.74% Variable
platinum rewards
Rewards Platinum Card
9.49% Variable
classic standard rate
Low Rate Classic Card
11.24% Variable
classic rewards
Rewards Classic Card
13.49% Variable
platinum 1.5% cash back
Unlimited 1.5% Cash Back Platinum Card
13.74% Variable
classic flat 1% cash back
1% Cash Back Classic Card
13.74% Variable